Meet Our Designer
Jude is an experienced landscape designer. She spent many years designing and installing landscapes in the Bay Area and tailors landscape designs to her clients' needs and tastes. She strongly believes in planting the right plant in the right place.
"I especially enjoy collaborating with clients and helping them create a garden they truly love."
Our designer understands that there are many different approaches to designing a landscape, and feels it is of the utmost importance to create the one that brings you the most joy. Jude specializes in native plant and habitat gardens, as well as water conservation gardening methods and PNW landscapes.
Design Services
Would you like to create a beautiful, thriving garden space, but perhaps not quite sure how, or where, to begin? Let Farmington Gardens help!
Our landscape designer team will assist you throughout your design journey, giving you the confidence and horticultural expertise to transform your landscape or provide you with a comprehensive garden design to help you actualize your vision.
We listen to your ideas and needs, evaluate site conditions, and make plant recommendations based upon your specific landscape. We carefully examine existing plantings, consider your plant and color preferences, then incorporate it all into a unique landscape design solution especially for you.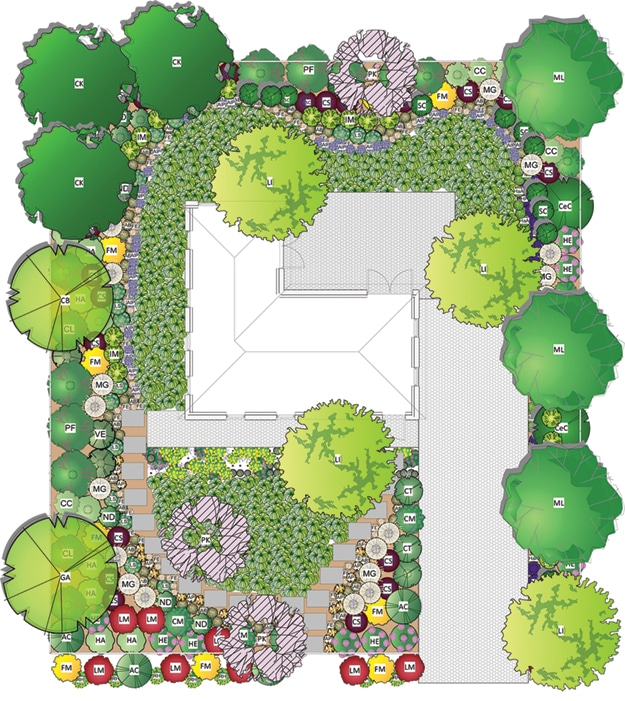 Landscape Design
Our Landscape Design package provides a comprehensive design for a portion, or the entirety, of your property. This package includes:
An on-site consultation with our landscape designer
Site measurement
Creation of an individualized landscape design
A detailed customized plant list
A quote for plant material and installation
RATE: $949 for a full design of an average-sized lot of approximately 1000 square feet. Or $140 per design hour (total cost depends upon the size and scope of the project).
Garden Coach Consultation
ON-SITE CONSULT: We provide you with a 90-minute, on-site consultation with a garden designer. The consultation will include general horticultural advice such as planting, soil health, general maintenance, and plant health tips. We advise on existing plantings, provide suggestions for removals, as well as recommending additional plants to complement your landscape.
RATE: $275 for 90 minutes, for locations no more than 30 mins away  
$75 per 1/2 hour after 90 minutes
IN-STORE CONSULT: Meet with one of our garden experts for a focused, one-on-one, in-store consultation at our Farmington Road location. A great choice for those wanting specific landscape or plant questions answered in a timely manner. Bring your pictures and ideas!
RATE: $60 per 30 minutes of one-on-one consult
Plant Placement

$150 per hour, per person

Delivery

Beginning at $65, depending on zip code.

(Items larger than 20 gallon may require two people to deliver, and additional charges will apply) 

We offer prompt and reliable delivery services for plant material too large or numerous to transport yourself. Allow Farmington Gardens to deliver your purchases directly to your property.

Installations

$10/gal for 2 gallon or less

$12/gal for 3 to 15 gallon

$15/gal, 20 gallon and above

We provide quality installation services for all of our plant material. Our skilled installation crew is trained in correct planting techniques and have the horticultural knowledge to ensure that your plant material endures and thrives.
Consultation/Design Inquiry Form
Contact us to set an appointment for our design services today!
CONTACT FORM